West Potomac Crew Sponsors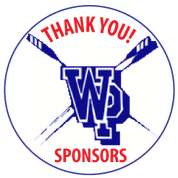 West Potomac Crew Club is a Virginia High School League (VHSL) sponsored interscholastic club. Club sports in Fairfax County do not receive financial aid from the school or the county. The club promotes, supports, and operates the rowing program at West Potomac High School (WPHS).

Crew is the demanding sport of rowing. It requires and teaches endurance, focus, discipline, teamwork, individual fitness and school spirit. We are a co-ed, varsity sport with approximately 70 rowers each year. Our student athletes excel on the water and in the classroom; the team boasts the highest grade point average of any athletic team at the school.

West Potomac Crew receives NO financial support from the school or Fairfax County because we are a "club" sport. All our funds are raised through athlete fees, fundraisers and donations. Thank you to our generous sponsors who help to make our seasons possible year after year!
---
---
Ergathon and Tag Day Results
The 2018 Ergathon was a huge success, raising over $17,800, quickly followed by Tag Day where we raised over $8200. A hugely successful Spring campaign. Thank you all for your efforts and making West Potomac Crew possible!!!
---
Current Season Sponsors