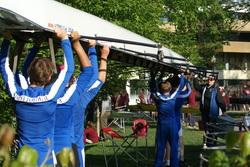 The Sport of Rowing
Everything Else is Just a GameCrew is the sport of rowing
. Crew races, called regattas, are among the most physically demanding and beautiful events in all of sports. West Potomac Crew includes a men's team and a women's team. Rowers are characterized by their great mental toughness and astounding physical ability. These qualities rarely come naturally, but are developed with practice and coaching. No experience is required; we'll teach all of the skills that are needed. All that's required is desire. Virtually all new rowers have no experience at competitive rowing, but many have a background in other sports like swimming, track, cycling, football or field hockey.
Crew at West Potomac is a Varsity spring sport
with both the men's and the women's team each electing a Senior Captain, and a Junior Captain. We compete locally against more than 40 local high schools and typically travel to post season regattas to race against 180 other schools from Canada to Florida, and as far as the Midwest and Southwest. The team has been competitive since beginning in 1968 as the Ft. Hunt High School Crew Team. Recent achievements include qualifying a men's and a women's boat for Nationals and the men's team winning the Virginia Division II championship in 2008. In 2013, the Lightweight Women's four placed second in the Virginia Scholastic Championships and, along with the Lightweight Men and Junior Women's Four, competed at Nationals.
To read the full Sport of Rowing Handbook,
click here
.
---