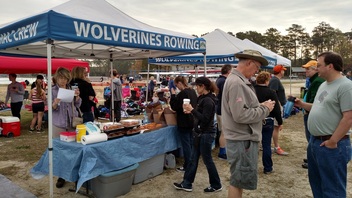 VOLUNTEER COMMITMENT
Because the team is not funded by Fairfax County Public Schools, fundraising and parent volunteering are required for the team to operate. To keep the cost of participation for the students at affordable levels, West Potomac Crew Boosters depends upon every parent/family to actively participate in a volunteer capacity, performing duties required for the team to compete.
Please click on the Volunteer Policy below to understand the volunteer requirements. The Volunteer Policy is electronically signed by families when registering their rower/coxswain.
West Potomac Crew Boosters Volunteer Policy
​
VOLUNTEER COORDINATOR -- REQUIRED POSITIONS

Returning

West Potomac Crew Families
Please sign up for a volunteer coordinator position by November 30. One adult from each family is required to sign up for and fulfill the duties of one position for the 2017-18 season.
Sign-up link will be posted when available
New
West Potomac Crew Families
Please sign up to assist a volunteer coordinator as soon as possible. One adult from each new family is required to sign up for and assist one Volunteer Coordinator for the 2016 season.
Sign-up link will be posted when available
Descriptions of Volunteer Coordinator Positions
Please click on the link above to view descriptions of the coordinator position duties

DETAILS ON VASRA SIGN UP
Each crew season the Virginia Scholastic Rowing Association (VASRA) provides the venues and organization for the majority of our regattas. It is an all-volunteer association that facilitates competition and communication between approximately 39 high school crew booster clubs. Organizing a regatta requires the effort of a core group of volunteers supplemented by volunteers from each high school. Jobs assigned to each school include selling concessions, site set-up, driving the launches, helping with race timing, and helping to hold boats in position before the start of a race, to name a few.
Below is a sign up for fulfillment of our school's VASRA duties this season. There are 84 slots listed. When considering which job to sign up for there are several things to take into consideration:
1) Each job has a primary and backup volunteer associated with it. Only the primary is obligated to fulfill the job. The backup volunteer is important to have in case the primary is unable to fulfill his duty. Any no-show on our part results in a $50 fine to our club!
2) Is the regatta for all boats, lower boats, or upper boats? (You may not wish to attend a regatta that your child isn't rowing in.)
3) Some jobs a more physically demanding than others. Please read the job descriptions through (attached in a link within the sign up).
4) Driver jobs require training beforehand
5) Some of the jobs list a start time but no end time. These jobs are to be performed until "done" but probably won't be longer in duration than the other jobs.
6) In most cases you will need to sign in at the regatta headquarters one hour prior to the start of your shift, excepting shifts beginning at 5:30 or 6 a.m.
Each family must sign up for ONE job (yes, just one for the whole season!).
---