West Potomac Crew Season
2013-2014 - Highlights & More . .
This year was marked by a spectacular turnout of athletes for crew. We had 75 rowers this season, including 35 novices, for a total of 20 more rowers than last year. Most rowers prepared themselves physically by attending Winter Conditioning and our Erg-A-Thon distance rowing and fundraising event in January.
Even with several snow days, crew athletes were in great shape and ready for the season! Unfortunately, the weather (snow, wind, cold and rain) kept us, and many other teams, from getting much time on the water during the first half of the season. Water conditions improved dramatically in April, just in time to get ready for the championship season. (continued--scroll down)
For additional articles go to news:
link
Photos
:
http://sportgraphics.com/events/sraa-nationals-2014#!/?school=west-potomac
Our experienced rowers attended regattas early in March and early April at Sandy Run on the Occoquan River, then the full team travelled to Baltimore, Tidewater and at Georgetown in April, leading up to State Championships and post-season regattas in May. For awhile, due to one postponement (not enough practice time) and a mid-regatta cancellation of events, it seemed that the Freshman and JV/Novice boats would NEVER get to race! When they finally did, in Baltimore, our boats faced tough competition from teams that had more experience. Our rowers worked diligently to catch up and, as a result, progressed and raced very well. Ultimately, three out of four of our Freshman/JV boats, the Men and Women's 8s, Women's Novice 4 and the Men's Junior 4, qualified for semi-finals or finals at their events at States.
The core of the Varsity Men's team consisted of three boats, including the Men's Junior 8 and 2nd Varsity 4. With several novice rowers in the line-ups, these boats improved dramatically with each practice. Both boats had excellent races at the State Championships, each of them narrowly missing qualifying for finals.
Our #1 Varsity Men's boat, the 1st Varsity 4, had a line-up of experienced rowers who also became stronger and more consistent in their performance as the season advanced. They peaked at States, where they qualified easily for the Petite (Second) Finals and placed a very commendable 9th overall.
The Varsity Women had several
WINS
and medal placings at all seven regular season regattas. The boats that competed at States and were the Women's Varsity sculling quad, the Women's Junior 8 – who qualified for finals and placed 5th overall, the Women's Varsity Lightweight 4 and Women's 1st Varsity 4. The Junior 8 placed 5th overall and both Fours took 4th places at States. In addition, both Fours qualified for semi-finals against top boats in the country in Philadelphia at the Stotebury Regatta, a huge achievement for those rowers and for our team. Sadly, the semifinals were canceled due to the effects of excessive rain, so the ladies were denied the opportunity to race into the finals. The good news is that they weren't done racing since both boats had qualified to attend the Scholastic Rowing Association Nationals competition in Princeton NJ the following weekend, where they represented West Potomac with pride and distinction once again.
Notable athletes who were recruited to row in
COLLEGE PROGRAMS
after graduation are Rebecca Gehring, University of West Virginia; Stephanie Fiedler, Boston University; and Brooke Pierson, University of Washington.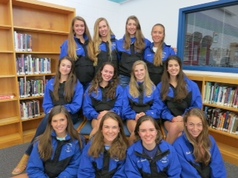 West Potomac crew team women's senior and lightweight four, from left, include (first row) Sydney Olson, Jordan Nixon, Alina Selnick, Audrey Boling, (second row) Taylor Haas, Stephanie Fiedler, Lilly Lane, Sarah McKeown, (third row) Alyssa Pierson, Brooke Pierson, Rebecca Gehring and Jessey Willis. Not pictured: Lead Coach Alan Weatherley