West Potomac Coaching Staff



---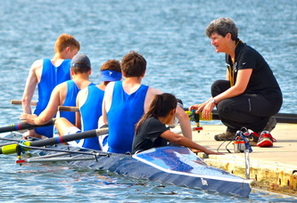 Leslie Shinners - Head Coach and Lead Coach - Men
Leslie has been a competitive sweep rower for more than 20 years, winning several Masters' championship races with her team, Alexandria Community Rowing. Her daughters rowed at West Potomac and she coached here for three seasons from 1996-1999, taking over Head Coach duties from Chick Little in 1997-1998. Leslie was thrilled to return as Head Coach in the 2012 season upon retiring from the position of recreation administrator at George Mason University. She continues work at Mason as an adjunct professor in the School of Recreation, Health and Tourism.
coach@wpcrew.org
---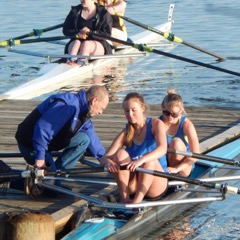 Alan Weatherley
- Lead Coach
Alan first started in the sport when his son rowed for West Potomac. Alan coaches at both West Potomac and Alexandria Community Rowing, where he is also a dockmaster and a competitive rower. He has rowed in numerous regattas including Masters Nationals where he earned several medals as a member of a lightweight crew along with our much-loved coach Jack Hickey. Alan retired from education in June 2013; formerly he worked at Fort Hunt Elementary School where he had the pleasure of teaching several of our rowers. Prior to coming back to work with our novices, Alan was the lead coach for the Crew Women's Team.
awawf@aol.com
---
Megan Lister -

Lead Coach - Women

Megan is in her 10th year of coaching for West Potomac. Over the years, she has coached students at every level on the men's and women's team. She started her rowing career in high school at The Hun School of Princeton and continued rowing at Marietta College in Ohio. Megan is also a Fairfax County educator at Hayfield Secondary School

.

meganwepo@gmail.com
Liz Faulks
-
Coach
Liz is a Science teacher at Carl Sandburg and and a third-year crew coach at West Potomac. She rowed in high school in Rochester NY and also at the University of Delaware.
lcfaulks@fcps.edu
---
Grant Ours - Assistant Coach

Grant is a recent graduate of West Potomac and former member of the Men's Varsity 4. He rowed all four years of high school. He was the men's Junior and Senior captain. He attended Virginia Tech for three semesters and is now taking a break to find himself. He is very excited to be coming back to rowing!

grant15@vt.edu
Ethan Moran – Assistant Coach

Ethan Moran was a coxswain for a total of 7 seasons with Lake Braddock Secondary School, Nothern Virginia Rowing Club, Resilient Rowing, and the University of Mary Washington. He has worked with men and women of all levels of experience and is looking forward to spending his first season coaching with West Potomac.

emoran629@gmail.com
Erin Bauer - Assistant Coach

Erin is a 2014 West Potomac grad. Erin rowed high school crew and participated in out of season rowing and sculling programs. She attends school at NOVA and works for NOVAParks in the summer.

erin.bauer222@gmail.com